is the message board and cricket blog site
featuring the online story itself

"Mr. Cricket - The Story of the Backyard Cricket Competition",

and The Wicket Art G

allery

where you can submit your art and other items to the various categories in The Gallery relating to Mr. Cricket. With stacks of prizes to win, friends to foster and lots of good fun to be had, its cricket cricket cricket!
Mr Cricket is all about you and the global culture and community of cricket.
So go ahead and show us your cricket, your backyard dog, your buddies and family, your backyard project and memorabilia. Teams will also get a score sheet to keep a record of every game of cricket and then share it with the world! Print off a Mr Cricket scoresheet for taking to the game too .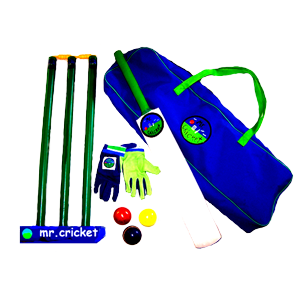 We are devising all sorts of ways to give out

prizes

; There's weekly prizes and a run accumulation reward system for redeeming prizes. There's stacks of backyard balls and comp grade six stitcher

Mr Cricket balls in red, white and fluoro. We have plenty of Mr. Cricket kits, backyard/beach stumps and bats (plus other cool stuff) to give away too! So give us a Big Shot and show us your memorabilia and backyard dog!
The bush telegraph/message board and blog facility is

multi

media

. You can upload your photos and documents (for example scanned art or maybe a treasure map!) You can use large fonts and lots of colour to your liking. And if you want to use video simply load your favourate Youtube links too!
Blog on at Mr Cricket, its tons of fun.
And we really do pride ourselves on being a safe site so if you see anything that's just not cricket - let us know.